Artikel-Schlagworte: "start-titel"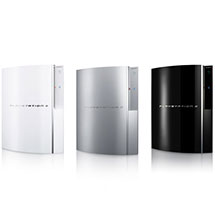 am 23. märz kommt die playstation3 nach europa. sie wird vorerst nur in der 60gb-version für stolze 600€ vertickt. hier die liste, welche spiele es zum start ebenfalls zu kaufen geben wird:
Blast Factor, Sony, Bluepoint Games Online
Blazing Angels Squadrons of WWII, Ubisoft, Disc
Call of Duty 3 Activision, Treyarch, Disc
Def Jam: Icon, EA Games, EA Chicago Disc
Enchanted Arms, Ubisoft, TBA Disc
FEAR, Vivendi Day 1 Studios, Disc
Fight Night Round 3, EA Games,EA Disc
FlOw, Sony TGC, Online
Formula One Championship Edition, Sony, SCEE Disc
Full Auto 2: Battlelines, Sega, Pseudo Interactive Disc
Genji: Days of the Blade, Sony, Game Republic Disc
Go Puzzle!, Sony, TBA Online
Go Sudoku!, Sony, Sony Online
Gripshift, Sony Online Ent., Sidhe Online
Gundam: Crossfire, Atari, Bandai Ent. Company Disc
Lemmings, Sony, Team 17 Online
Marvel: Ultimate Alliance, Activision, Raven Software Disc
Motorstorm, Sony, Evolution Studios Disc
NBA 2K7, Take Two, Visual Concepts Disc
NBA Street: Homecourt, EA Games, EA Canada Disc
Need for Speed Carbon, EA Games, EA Black Box Disc
NHL 2K7, Take Two, 2K Sports Disc
Ridge Racer 7, Sony Namco, Disc
Resistance: Fall of Man, Sony, Insomniac Disc
Sonic The Hedgehog, THQ, Sonic Team Disc
Super Rub'a'Dub, Sony, TBA Online
Tekken: Dark Resurrection, Sony Namco, Online
The Godfather: The Don's Edition, EA, Disc
The Elder Scrolls IV: Oblivion, Ubisoft, Bethesda Disc
Tiger Woods PGA Tour '07, EA Sports, EA Canada Disc
Tom Clancy's Splinter Cell Double Agent, Ubisoft, Ubisoft Disc
Tony Hawk's Project 8, Activision, Neversoft Disc
Untold Legends: Dark Kingdom, EA, Sony Online Ent. Disc
Virtua Fighter 5, Sega, Disc
Virtua Tennis 3, Sega, Disc
World Snooker Championship 2007, Sega, Disc
[via]
ähnliches spiel wie bei der ps2: fortsetzung nach fortsetzung nach fortsetzung… keine frage: es sind ein paar coole fortsetzungen dabei… aber ob die den horrenden preis von 600€ rechtfertigen will ich mal stark bezweifeln, zumal es zu vielen games noch ps2- bzw. versionen für andere systeme gibt.

bald ist es soweit: für alle ausser europa beginnt bald die playstation3-ära. hier eine offizielle liste mit den titeln, die zum start erhältlich sein werden:
• resistance: fall of man
• nba 07
• genji: days of the blade
• Blazing Angels Squadrons of WWII–Ubisoft
• call of duty 3
• ea sports fight night round 3
• the elder scrolls IV: oblivion
• f.e.a.r.
• full auto 2: battlelines
• madden nfl 07
• marvel: ultimate alliance
• mobile suit gundam: crossfire
• nba 2k7
• need for speed carbon
• nhl 2k7
• ridge racer 7
• sonic the hedgehog
• tiger woods pga tour 07
• tom clancy's rainbow six vegas
• tony hawk's project 8
• untold legends dark kingdom
[via]
okay, gehen wir die liste einmal durch: "oblivion" – burner-game, "tony hawk project 8" – soll das realistischste und beste tony hawk werden, "nba 2k7" und "nhl 2k7" sind die referenzen im sport-game-bereich, ea kann da einpacken, "ridge racer 7" – wie immer beim start einer playstation darf natürlich auch diesmal kein ridger racer fehlen und die screenshots sind nicht mal schlecht, "sonic" – sowieso kult, "f.e.a.r." – einer der besten shooter des planeten, macht insgesamt 7 hammer-gamez, ein solider anfang aber natürlich ohne ende ausbaufähig. bald gehts los… [leider nicht für europäer :-(]