Artikel-Schlagworte: "statue"

B.a.d.a.s.s.: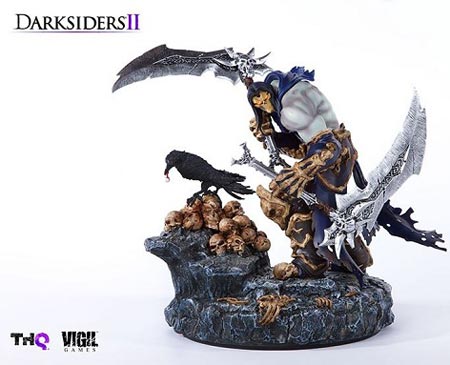 Was wir hier sehen ist das Werk von Virgil-Creative-Director Joe Madureir. Das Vieh ist 81cm(!) groß, vollfarbig bemalt und hat krasse LED-Augen.
Natürlich gibt es bei so einem Teil auch eine Legende, die wir hier 1:1 wiedergeben:
Like his fellow Horsemen, Death is of a race known as Nephilim – among the most powerful beings in the Universe. When Mankind was given the prize of Eden, Absalom – leader of the Nephilim – led his armies against Heaven and Hell in an attempt to steal it back. For this crime, the Charred Council condemned the Nephilim to destruction. The Four Horsemen of the Apocalypse were granted a reprieve from this fate on the condition they aid the Council's victory over their kin. The Horsemen accepted, but it was Death who bore the greatest burden of guilt for the near extinction of his race. Donning his iconic mask to represent his role as executioner on the day he slaughtered his brethren, he has not removed it since.
Zu haben ab März. Der Wert soll bei 600$ liegen, das sind 463 harte Euronen. Fear not: Wer direkt bei Triforce vorbestellt, der bekommt die Statue schon für 150$/115€. Das ist fast ein Mega-Deal…