Artikel-Schlagworte: "symphonia"

wir haben nun seit mitte dezember nichts mehr zu "tales of symphonia" gehört. seit heute wissen wir, der volle titel lautet "tales of symphonia – dawn of the new world" und es gibt ein video zum gameplay:
clip: "tales of symphonia", gameplay.
an der technik dürfte sich nicht viel geändert haben, weil die wii eine gleiche leistung bringt wie der gamecube, auf dem der erste teil 2004 erschien. was sonst noch wichtig ist könnt ihr euch anlesen: bei wikipedia.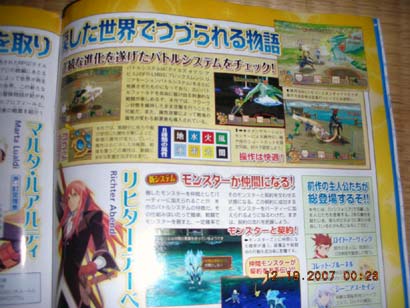 "tales of symphonia" erschien 2003/2004 für den gamecube und die ps2. von den kritikern wurde dieses rollenspiel äusserst positiv aufgenommen, mit rankings irgendwo im 8-9er-bereich. der nachfolger für die wii trägt den titel "tales of symphonia: knights of ratatosk" und für ungeduldige gibt es erste eindrücke per scan:
freut euch! wikipedia hat weitere infos zu der serie: de.wikipedia.org/wiki/Tales_of_Symphonia.