Artikel-Schlagworte: "thrones"

Hier haben wir den ersten Gameplay-Trailer zum Action-Rollenspiel "Game of Thrones".
Obwohl das Game auf den Fantasy-Büchern des George R.R. Martin basiert, wird es im Spiel selbst mit der Welt Westeros eine eigene geben. In den USA läuft übrigens die Serie im TV dazu.
Wir sind gespannt, wie das Mittelalter-Rollenspiel ankommt.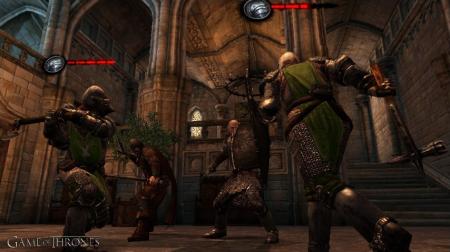 "Game of Thrones" wird von Cyanide entwickelt und hierbei handelt es sich um ein Rollenspiel für PC, 360 und PS3.
Das Spiel folgt dabei zwei Charakteren, die aus dem Universum des Autoren George R.R. Martin stammen, der ab 1991 eine Fantasy-Reihe mit dem Titel A Song of Ice and Fire veröffentlicht hat.
Erste Grafiken findet man dort:
5 screens, "Game of Thrones", via joystiq.com.
Klingt alles sehr interessant und mysteriös, man darf gespannt sein, ob das Spiel den Büchern gerecht wird.