Artikel-Schlagworte: "winds"

heute kommt endlich "winds of nostalgio" in japan raus, das luftige höhenabenteuer von den machern der ds-ausgaben von "final fantasy". technisch kann man gar nix daran aussetzen, die grafik sieht meisterlich aus. hier eine auswahl an screens:
14 screenies von ign.com, sechs weitere via planetds.de, sieben via gamekyo.com und 9 via rpggamer.com.
komischerweise gibt es keine infos zum game, da hat tecmo eine eigenartige informationspolitik. wir drücken jedenfalls die daumen, dass es den sprung nach europa schafft, denn optimistischer kann man bei einem ds-rollenspiel fast nicht sein.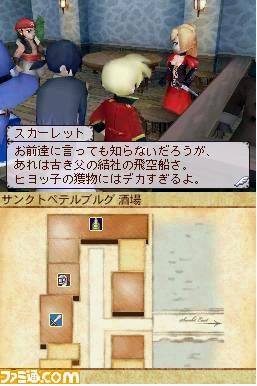 tecmo bringt das nds-rollenspiel "winds of nostalgia", von dem ihr euch bereits jetzt schon ein bild machen könnt:
9 screens, "winds of nostalgia", via famitsu.
das nimmt echt langsam überhand mit den ds-rollenspielen, hoffen wir mal, dass da auch die qualität stimmt. egal, zur story: die hauptfigur ist eine londoner, der in einer romantisch-zukunftsmässigen version des 19. jahrhunderts lebt. neben der üblichen dungeons-erkundung wird es auch luftschiff-schlachten geben. unklar ist, ob das game ausserhalb japans erscheint. klar ist, die macher der remakes von "final fantasy III" und "ffIV" arbeiten an dem spiel. na dann.