Artikel-Schlagworte: "zestiria"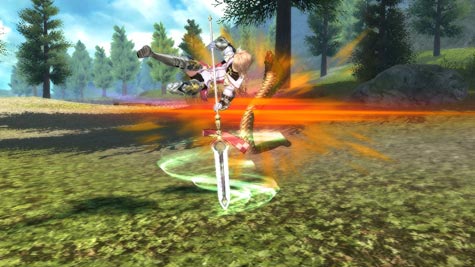 "Tales of Zestiria" (テイルズ オブ ゼスティリア) wird das 15. der Tales-Reihe sein. Soll sich noch einer über "Final Fantasy" mokieren. Und die Spin-Offs sind hier nicht mal miteingerechnet.
Spielen wird es in der fiktionalen Welt namens Greenwood, wo es zwei verfeindete Imperien geben soll, die im Krieg sind. Die Geschichte folgt Slay, der mit Superkräften modifizierten Humanoiden angehört und durch seine Streifzüge durch diverse Ruinen schließlich auf eine Begleiterin namens Alicia trifft.
Namco Bandai hat aktuelle Screenies für uns, die könnt ihr dort abgreifen:
16 screens, "Tales of Zestiria", via gamekyo.com.
Es gibt hier noch kein Datum. Die Marke wurde irgendwann im September registriert und umfasst alle drei Weltregionen. Wir leiten weiter, sobald sich hier etwas tut.

Die gute Famitsu bringt uns die allersten Scans zu "Tales of Zestiria" (テイルズ オブ ゼスティリア), einem JRPG der offiziellen Tales-Reihe von Namco Bandai für die PS3:
Hier Scan #1, Scan #2, Scan #3 und Scan #4.
Ein reines Fantasy-RPG mitsamt brandneuen Charakteren und eben solchen Lokationen.
Es wird Drachen geben. Sehr viele davon. Die Story dreht sich um den jungen Krieger Slay und Alicia, einer eher maskulin wirkenden Krieger-Prinzessin.
Die Marke wurde im September letzten Jahres für alle drei Weltmärkte registriert. Es sieht also danach aus, dass es auch zu uns kommt. Nur: Es existieren keinerlei Daten, für keinen dieser Märkte. We'll keep you updated, of course.