Artikel-Schlagworte: "zukunft"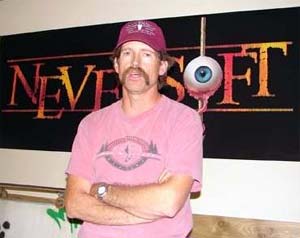 schlechte nachrichten für alle fans der tony-hawk-franchise: joel jewett von neversoft hat sich jüngst zur zukunft des virtuellen skateboard-klassikers geäussert und das liest sich dann so:
"Neversoft plans to release more sequels to the "Guitar Hero" series — including the much-ballyhooed "Guitar Hero: Metallica" set for release during the first quarter of this year — but the company has let the Tony Hawk series go to another developer.

It's probably best for the franchise … it's time for someone else to add fresh ideas to it."
man kann jetzt darüber spekulieren, was mit "fresh ideas" gemeint ist, aber es sieht wohl so aus, dass man sich durch eas skate irgendwie bedroht fühlt. zudem scheint durch das ausschlachten der guitar-hero-serie kein platz und keine zeit mehr zu sein für ein anständiges next-gen-game.
ausserdem darf man nicht vergessen, dass activision und blizzard nun gemeinsam unter dem selben dach firmieren und bei solchen aktionen jedesmal entwicklungen vorerst auf der strecke bleiben. wir sind gespannt, ob es das wirklich war mit tony hawk und halten unsere augen und ohren offen.

homebrew und exploits für die wii stecken derzeit noch in den kinderschuhen. nichtsdesoweniger gibt es scheinbar seit kurzem die möglichkeit, eigengebrautes auf der wii zum laufen zu bringen, wohlgemerkt ohne chips.
den forumseintrag in englischer sprache gibt es dort:
die website: wiili.org/index.php/Homebrew.
viel spass beim testen und nicht wundern, wenns euch alles zerschiesst. no risk, no fun.

ein video, das man gesehen haben muss:
[via]
supercoole 4minuten14sekunden. echte videospiel-mashup-kultur und original-soundtrack.